TRACK LISTING :
1 – When The Night Feels My Song
2 – Shelter
3 – Living In Jungles
4 – Money Worries feat. Vernon Maytone
5 – Gyasi Went Home
6 – Shadow of A Man
7 – Jeb Rand
8 – Criminal
9 – Murder On The Midnight Wire
10 – Music My Rock
11 – Rude Boy Don't Cry
12 – Immigrant WorkForce
13 – Nothing To Say
14 – Money Worries (E-Clair Refix)
14 – Rude Boy Abroad (Lazare Breakdub)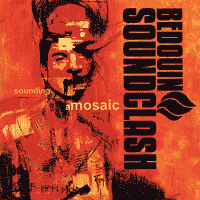 "Awesome". This is the first word that comes out of my mouth when I have to talk about this record. Straight from the sweet Vancouver, these 3 guys are giving me the shivers. Brilliantly wrecking the line between Reggae and Dub music, the CD "Sounding A Mosaic", entirely recorded in Montreal, is one of the best things I've been allowed to hear in my entire life.
Strangely, the guy that produced this sweet and cheesy record is the well-known Darryl Jenifer from the Bad Brains. I'm actually beating my head against the wall as I'm trying to find out my favorite songs from this CD. Each and every single song has something different with the others, a different vibe, another mood, another tempo .. From slow upbeat Reggae to old-school Dub/Ska Reggae, the guys really redefine the entire genre, as no one succeeded at doing something as good or better than Bob Marley and the Wailers since Sublime did a couple of years ago. "When The Night Feels My Song", the first single, the first song of the record, gives you a great idea of what's going on. The incredible Jay Malinowski's voice kicks in and rapes your whole world with it's amazing singularity. Then "Shelter" starts. I first thought this song was "Okay", but when the chorus starts, "okay" loses all it's meanings. It's more like "OH YEAH". With the Eon Sinclair's bass guitar rocking hard the Casbah, this song is probably my favorite I'd say. A bit faster, and more like old-school Dub/Ska, this is a masterpiece. I can't review this CD without talking about "Money Worries". An anthem of the "Bob Marley and the Wailers" good old days, smooth, guitar upstrokes .. This song is predisposed to make me smoke weird tobacco. I can't forget "Gyasi Went Home", that makes me feel like the sunset somewhere in the Jungle, surrounded by apes and gentle lions, this song could have been used for the Lion King's soundtrack. Awesome. Other excellent songs : "Jeb Rand", "Rude Boy Don't Cry", and "Murder on The MidNight Wire". Check out the two remixes at the end of the CD, they're amazing.
Whoa. Go buy this CD, now. So far I can't really find the way to bring this review to an end, there's too much to say about this CD, so I'll just shut my mouth right now.