TRACK LISTING:
1. Seeing Double at Triple Rock
2. The Marxist Brothers
3. Golden Boys
4. You're Wrong
5. Everything in Moderation (Especially Moderation)
6. I'm Going to Hell For This One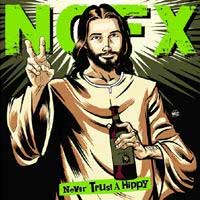 Oh well. 3 years ago, I was looking at the NoFX's "War on Errorism" CD for the first time and I was thinking: "Okay, can they get any worse at all? " So I just played the CD on my computer and suddenly felt like the guys finally did something great, after a couple of long years of stagnation and warmed up recipes of lame PunkRock songs. A couple of days ago I was looking at their newest EP; "Never Trust a Hippie" and I have to say that for the first time ever, I was having expectations about a NoFX CD. Okay, I'm not a huge NoFX fan, first of all. Anyway. This 6 songs EP can be considered as the foretaste of their upcoming full length release called "In Wolve's Clothing", or if you prefer, "an average collection of "decent" B-Sides and a couple of songs that are good enough to put on a real record". So, I don't think I'm gonna do sort of a "complete" review, since I don't really feel the need to do it. Check out "Golden Boys" and "Everything in Moderation…" that are probably my personal favourites. It's just too bad they're not going to be on the new record. For a "Separation of Church and Skate" rip-off, go for "Seeing Double at Triple Rock", for an old 7" of the Month's club song just go for "You're Wrong", and for a "Super-Fat-Mike-Typical-Bass-Riff", "I,m Going to Hell for this One" is dedicated to you. The only song left, "The Marxist Brothers", is pretty boring, in my opinion. So, as the eternal optimist I've always been, I think it's WAY better not to trust a EP and just wait for the full length release to make up our minds. How I miss the good old NoFX back in 1994 !