TRACK LISTINGS
THE MARK WORNER EP
1 – Diary
2 – Corrugated Ideas
3 – Free Port
4 – Dignified Response
5 – Last Step
6 – No Footsteps To Follow
ALL WE COULD AFFORD DEMO
1 – Imbalanced
2 – No Clue
3 – World Today (Gone Tomorrow)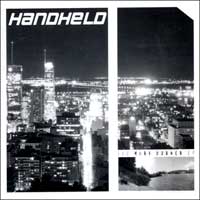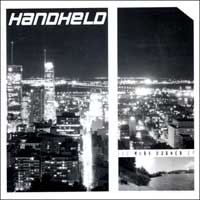 Okay. Propably none of you guys have ever heard about "HandHeld", right ? So let me introduce them to you. Rocking the Kitchener area since 1998 with their fast and melodic punk rock and their contagieous lead guitars, it's just so bad that they're still being underdogs to the industry. Right at the first listening, I've been amazed by the way these guys are mixing aggressive punk rock with these so melodic harmonies. Their 4th official release, "The Mark Worner EP", once again released under an Independent Label, really shows an unexpected maturity for a punkrock band nowadays and so much freshness at the same time, it's pretty amazing, as the "All We Could Afford" demo they sent me too, shows 3 incredible songs that I can't stop listening to. Everybody here thinks I'm retarded cause I listen to the same 3 songs all day. Haha.
So let's talk a little bit more about "The Mark Worner EP", their latest effort. This CD, totally remembering me my good old days when I was younger and listening to some old-school punk with my friends between classes on the school's radio. Hard-hitting, fast and melodic, it's so cool to me to be blessed to finally hear something like that again without having to listen to my old punk records from the early and mid 90's I'm starting to get tired of. From wonderful basslines to the technical and aggressive dual lead guitars, everything seems to be calculated and I have to say that everything's fitting perfectly. Oh, and I can't talk about HandHeld without talking about the singer's voice. Whoa. Perfectly fitting, it looks like Andy Dietrich (vocalist) knows how to use his voice and he's so good at it. Sort of a mix of maybe Millencolin and Face to Face, his voice really finds his place here in the now-redundant punk rock industry. You really have to take look forward to hear "No Footsteps to Follow", "Diary", and "Dignified Response", that are, to me, the 3 major acts from this EP.
Now let's talk about the "All We Could Afford" demo that they sent me with their EP. Incredibly great too. Everything's amazing about this demo, except the fact that there's only 3 songs on it, 3 songs that aren't on any other of their releases. A must-have or a must-buy, if you ever have the chance to buy it. The first song, "Imbalanced", is driving me totally insane. Sort of a musical mix between No Use For A Name, LagWagon and maybe Face To Face, this song is on my daily playlist since I got it, 2-3 weeks ago. So kind and cute and so fast and aggressive at the same time, waow. "No Clue", the second song, is way more aggresive and maybe "darker", if I can say that. Pretty cool bassline, musically and technically really cool too. Then you get into "World Today (Gone Tomorrow)", harsh, aggressive, fast, sick. Really worked out vocal harmonies, gang vocal, fast and technical palm mutes, indeed, it's an excellent song. I'd love to talk of the songs for an hour, but I'm already done now. Hehe.
So. Now I have a little surprise for you guys. Because the Handheld guys are awesome and incredibly cool, I received more than one copy of their "All We Could Afford" demo. So here I go with a little contest. I have 3 extra copies to give away to the first 3 persons e-mailing me the title of their very first release. (Hint : Everything's on their website.) Will be added to the package some stickers, and my really rare and wanted lipstick kiss. Send me your mailing adress, your name, how you discovered Skaponk.com and for sure the answer to the question to joel@skaponk.com, giving your email the title "Handheld contest".