TRACK LISTING
1 – Ghettoblaster
2 – Addiccion, Tradicion, Revolucion
3 – Mayhem and Murder
4 – Smile Now, Cry Later
5 – DD Don't Like Ska
6 – Dia De Los Muertes
7 – Eville
8 – Cochino
9 – Disaster
10 – Musical Pollution
11 – We Represent
12 – Enter The Dragon
13 – Bastard Music
14 – Used To Love Her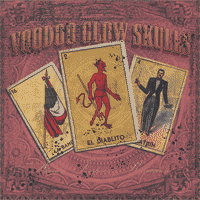 Another record I was waiting for so long .. As I thought that "Band Geek Mafia" was the shit, "Firme" drove me crazy like I never used to. I was like "Whoa, that's a perfect CD, nothing can beat it!". Then "Steady As She Goes" went out and it kicked my ass seriously. My expectations, like you probably already guessed, were pretty high for "Addicion, Tradicion, Revolucion" . Have I been disappointed ? Or fulfilled ? I'm not sure. It could have been way better if it haven't been released on Victory, cause actually like all the other Victory Records bands, the sound and the mixing sucks (Except for Steady As She Goes that was brilliantly recorded actually). Sometimes you feel like it's a huge melting pot of sounds and you can't retrace what's going on as well as "Steady As She Goes" was a pure gold monument of recording.
Musically, I have to say that this CD is great. Okay, it's a Voodoo Glow Skulls CD, and you can see it after 10 seconds listening to the record, when the Eddie's guitar kicks in and the Jerry's (Drums) big paws are hurting the drumset. Once again, the Casillas bros sticked to their habits of rocking hard. I actually thought they were about to record something "new" or at least different, like every other bands are tending to do nowadays, but they didn't. I'm happy about it and I'm disappointed at the same time. Some songs like "Ghettoblaster", "Musical Pollution", "We Represent" and "Bastard Music" are really powerful, but nothing compared to some masterpieces from "Steady as She Goes". But actually, "DD Don't Like Ska" and "Smile Now, Cry Later" are tending to be my favorites off this CD. More reggae-influenced and really slow, they're awesome. Unfortunately, the recording and the mixing doesn't give to Voodoo Glow Skulls the power and the aggressivity that they probably wanted to show (as usual). I guess it's so bad, I miss Epitaph a lot.
So, for the die-hard fans, feel no shame on buying this CD, it's a great buy for sure. For the explorators, maybe you'd be better of trying "Steady as She Goes" or "Firme" to see how powerful and trashy can be the Skulls.