Track Listing :
1. Hello Dearest Love
2. Hanging Marionette
3. Ice Heavy Branches
4. Losing Touching Searching
5. Fight Song
6. Sinking
7. Page
8. Innocent Vigilant Ordinary
9. How Life Can Turn
10. Dream for Us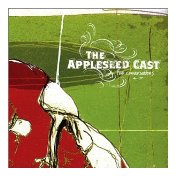 A little bit about them: The Appleseed Cast are formed by: Chris Crisci (vocals), Aaron Pillar (guitar), Louie Ruiz (drums) and Jason Wickersheim (bass, saxophone, piano). They have 5 full lenght albums since around 1995.
Ok Indie fans here we go. "Two Conversations" is the title of Appleseed Cast's last work. It's fantastic how much they can bring us so great albums each time. Some people thought Appleseed Cast were going to make something really out of the track after having success with Low Level Owl 1 and 2 but it's absolutely not the way things became. This album as well as all Appleseed Cast are brilliant as much musically as lyrically. It's absolutely useless to say more about them, you gotta check them out and figure everything out by yourself to notice they rock. If you like The Gloria Record, Death Cab For Cutie, American Football, Mineral, as well as previous Appleseed Cast albums, you can't be wrong by buying this cd right away.
This album really deserves more than 10/10 but I'll give it a BIG 10