TRACK LISTING
1 – I'd Tell You But
2 – The Press Corpse
3 – Exodus
4 – Project For a New American Century
5 – Hymn For The Dead
6 – This is The End (For You My Friend)
7 – One Trillion Dollars
8 – State FuneralImbalanced
9 – Confessions of an Economic Hit Man
10 – War Sucks, Let's Party !
11 – The W.T.O. Kills Farmers
12 – Cities Burn
13 – Depleted Uranium is a War Crime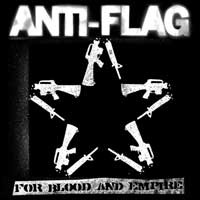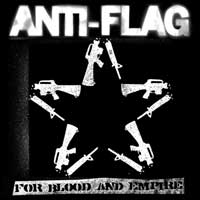 Finally, the high-awaited and highly spoken follow-up to 2003's Terror State saw it's hollow at the crossroads of the PunkRock history. Two years after what some called a "disaster" and some others claimed as a masterpiece, Anti-Flag is finally back on the map with their latest effort; For Blood and Empire. With their first step with RCA Records (Sony BMG), the Pittsburgh's pride has quite found a compromise between the fact of being on a major and sticking to their roots. As everyone thought that the guys were burned out and just sold out, the evidence shows in a ray of sparkles that Anti-Flag are still on the course and honest as they've always been. The evolution of the band through years fooled the dumbest beings making them think that they were going mainstream and that they only wanted to sell more CDs, now let me tell you that they sure will, but they damn sure deserve it.
Now let's talk about the CD itself. Harder, but not faster, I got to say that this is the logical following of The Terror State (2003), without being a warmed up meal stuffed into your mouth once again. Showing a huge self-improvement as individuals and as a band, the guys really nailed it I got to say. Gorgeous sing-alongs and steady Ska rhythms, fast and harsh Punk anthems, we got it all. Musically, I think it's a huge step forward, regarding the global evolution of the band. The guitar parts will show; Anti-Flag are getting better by the years. Chris #2 being loyal to himself once again, the album is filled with neat bass parts, and his harsh voice is completing the equation perfectly, once again. As some people tend to say that Justin's voice is getting old with years, I just wanted to say that the mixing of the CD and the instrumentations are making us forgetting about it quite fast. The whole CD flows from track 1 to track 13 like a fish in the sea, the incredible diversity shown between each song helps a whole lot, the production is neat, whoa. For the lovers of older years, "Depleted Uranium is a War Crime" and "State Funeral" will sure please you, as "This is the End (For You My Friend)" and "One Trillion Dollars" will make you sing along like you never did. Now let's talk about my personal favourites. As a huge Ska fan, I was overexcited to hear "The Press Corpse", a rare pace of A-F in the path of Ska soundings, and my surprise was doubled when I heard "The W.T.O. Kills Farmers", a slow and upbeat anthem to my (our?) rural reality, cause yeah, the W.T.O. is destroying all the basics of our local economy. As one of the best openers ever created by Anti-Flag for one of their CDs, "I'd Tell You But" is hell of a nice song, setting the bridge between "One People, One Struggle" (The Terror State's last song) and what Anti-Flag is right now. A revival of some Underground Network's fast and heavy songs mixed with a really nice solo (hands down Justin!) and some nice lyrics, it's serious foretaste of what coming up. If I had to choose or pick only one song on the CD, as curious as it seems, I would pick "This is the End (For You My Friend)" without hesitation. Even though it's pretty much the "single hit" off the album and that it's clearly a commercial song, I just can't help but sing like a riot all the way through it.
Well, in conclusion, I think it's an A+ class CD, even though my expectations (regarding the singles "Antithetic to the Cure" and "This is What a Feminist Looks Like") haven't been totally fulfilled. It's now been a month or so since I got the promotional copy in my mailbox (thanks to A-F Records), and the casual listening of this record is still making me happy, which is a huge sign of a total accomplishment and the proof that Anti-Flag is still a great band. Most people will still say that they sold out, let me tell them to go fuck themselves right away, they're just a bunch of ignorants if you ask me. I won't give a lame "out of 10" note this time, I'll let you guys make up your mind by yourselves. Hands down to the guys, once again !