TRACK LISTING
1 – A Speculative Fiction
2 – Fixed Frequencies
3 – Fedallah's Hearse
4 – Cut Into The Earth
5 – Bringer Of Greater Things
6 – Die Jugend Marschiert
7 – Rock For Sustainable Capitalism
8 – Impending Halfhead
9 – Life At Disconnect
10 – Name And Address Withheld
11 – Superbowl Patriot XXXVI
12 – Iteration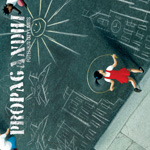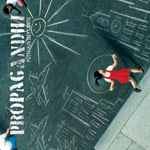 Well… Four long years of waiting since the release of the unquestionable masterpiece "Today's Empires, Tomorrow's Ashes", Propagandhi are finally back with their brand new effort; "Potemkin City Limits". I got the CD like a week ago or so, and I really wanted to wait before posting my review, just to give it some time to grow on me, but still today, it still haven't. We always saw evolution between each and every Propagandhi albums. In 1993, when they released "How to Clean Everything", we discovered a pure "Fat Wreck Band", then we got surprised by "Less Talk, More Rock" back in 1996 with more melodies, better guitar works, better lyrics, and a trashy side tending to emerge from their music. Then we got "Where Quantity is Job #1" (1998), sort of a recollection of b-sides, live performances and unreleased songs. Later, in 2001, we all received a serious kick in the ass when they released "Today's Empires, Tomorrow's Ashes", with their new bass guitar player, Todd Kowalski, bringing a very new dimension to their music with his harsh and dad-raping voice and his new influences. I still think that this was their best record ever, and if not, my favourite unless.
So, welcome in 2005, lots of things changed, and lots haven't. Chris Hannan being himself once again, you can expect awesome lyrics and incredible guitar riffs, mission accomplished. The very first thing you notice when you hear the CD is that his voice matured a lot. It's cleaner than ever, perfectly balanced, wow. The second thing you notice, unfortunately, no it's not heavier than "TETA". I'm a part of the people that were waiting for a total trash album with more dirty chords and blasphemy words, I have to admit. Even though it's still a pretty great album, the thing I'm a bit letdown of is for sure the lack of edgy hardcore parts of "Today's Empires … ", with Todd singing like an interned and Chris shredding his guitar like a riot. We sure got a really mature album. Everything's perfectly fitting, each note is placed where she belongs to, drum parts are simply perfect, I have nothing to say against the technical aspects of the album. It's brilliantly produced; you can really see the genius of these 3 guys all along the CD. Songs like "Name and Address Withheld" and "Die Juegend Marschiert" are true reminders of the "Less Talk, More Rock" era, as "Impending HalfHead", "SuperBowl Patriot", "Fedallah's Hearse" bring us back to the "Today's Empires" days. But actually, the greatness of this CD is all about the other songs. The opener, "A Speculative Fiction", is one of the most brilliant openers I've been allowed to hear. 4:14 length, you really feel like there's something big going on. Then, right after, you jump into "Fixed Frequencies", probably their nicest vocal harmonies ever, a real slow song, getting faster slowly, quietly, bringing you back to a gorgeous melody, and bringing you half-hypnotised to the next song. Another thing too, Todd can sing. He can sure damn do it pretty well too. "Cut into the Earth" is the best proof. Another slow song, but whoa… One of the nicest songs off the album, "Rock for Sustainable Capitalism", an evident blink of an eye to Fat Mike (Fat Wreck Chords), quoting "When did Punk Rock become so safe?" from NoFX's latest album "War on Errorism", contains the weirdest scream ever (1:34), look forward to hear that, that's something. I can't talk about "Potemkin City Limits" without mentioning anything about the closer, "Iteration". Not as "complete" as "Purina Hall of Fame" (Today's Empires) if you ask me, but once again, they nailed it.
So, in conclusion, as I can't say I'm plenty happy with this record, I have to say it's an excellent album. It's musically -and lyrically- perfect. As I said before, I was really looking for the "logical" follow-up to "Today's Empires", so yeah, I had some problems getting into it as some friends of mine liked it at the first listening. Taking in retrospect all their previous releases, this CD will for sure make everyone happy. They gathered all their strong points together and dropped everything else, to finally nail an awesome record that we'll still be listening in a decade I guess. Thumbs up to Chris, Todd and Jord, once again.