TRACK LISTING :
1. Suture Self
2. Breathe In
3. Jane
4. Over 50 Club
5. Please be Here
6. Hurry Up and Wait
7. Sickening
8. Living Will (Get you Dead)
9. The Odds
10. Benson & Hedges
11. Arsenic
12. 100k
13. Player Hater Anthem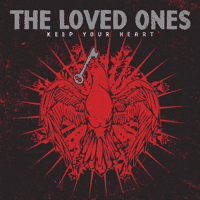 Oh jesus. As all the FAT bands are stuck on sucking lately, I kinda stopped listening to most of them and my life was going way better. By the most hazardous hazard, I was flipping through the PureVolume site pages and I just clicked on a band called The Loved Ones. Whoa.
What a kick right up the ass. Trios sure can rock, and these guys are the living proof. A brilliant mix of good old PunkRock and a powerful Poppy edge, I gotta say that this CD will probably be this summer's "most played CD in my car" award winner. A vocal mix of uh let me think Nuno from A Wilhelm Scream and Thomas from Strike Anywhere, nice guitar riffs, neat bass guitar parts and awesome melodies Fat Wreck at it's finest. The whole CD is fully enjoyable, some songs are quite slow but still it's an A+ Class record. The first song, "Suture Self", kicks in like daddy IN mommy. It sure stands out as my favourite song. Play it loud! Some other songs are pretty amazing, like "Living Will (Get Your Dead)", a Blink182-ish poppy song, or "Benson & Hedges", my second favourite, a real "Strike-Anywhere-influenced" song. I sure can't forget to talk about "Over 50 Club", maybe the only song that can get along with "Suture Self" when it comes down to speedy p0nK. The rest of the slow is quite slow, which makes the whole listening of the CD sort of an up and down experience, which isn't half bad.
"So what can I say to end this review?", I was asking myself. Even though I really like this album, I couldn't feel okay with myself by saying that this is a "masterpiece" or whatsoever, because it sure is not. Fully enjoyable, just to quote myself, but it's more like a tasteful candy or a sweet dessert; it's great but…